Who We Work With
At FintechGie, we collaborate with a diverse spectrum of clients, ranging from emerging startups to established industry leaders. Our expertise spans across various sectors including technology, finance, healthcare, and more. Join the ranks of satisfied clients who have witnessed their brands flourish with our tailored strategies and dedicated support.
Fashion & Moderniaztion
We do projects for Fashion & Modernization companies At Lime Digital, we specialize in helping fashion and modernization companies reach their goals with digital marketing solutions.
Our team of experienced professionals have a deep understanding of the fashion and modernization industries and can help you create a comprehensive digital marketing strategy that includes SEO, content marketing, social media, email marketing, and more.
We also specialize in creating stunning, modern websites that are optimized for conversions, as well as creating engaging video content for your brand.
Our team has the experience and know-how to create a digital marketing strategy that will help you reach your goals, and create a positive customer experience.
Energy and Utilities
We are able to offer a wide range of services for energy and utility companies, including project management, engineering design, construction management, commissioning and start-up, operations and maintenance, and other related services.
We have extensive experience in the energy and utilities sector, and can work with clients to develop and implement projects that meet their specific needs and objectives.
Financial Services and Insurance
We specialize in providing software and technology solutions for financial services and insurance companies. Our team has extensive experience in developing, customizing, and integrating software solutions for these industries. We can help you with a variety of projects, including:
Developing custom software applications -Integrating existing systems with new technologies -Creating customer-facing portals and websites -Developing mobile applications
-Implementing and customizing CRM systems -Creating secure payment gateways -Designing data visualizations and dashboards -Building secure data warehouses -Creating custom analytics tools
-Improving process automation -Creating customer journeys and customer experience -Integrating technology with legacy systems -Developing chatbots and AI-based systems.
Healthcare and Hospitals
We specialize in creating custom software solutions for the healthcare and hospital industry.
Our solutions are designed to improve operational efficiency, reduce costs, and improve patient care.
We have experience developing patient portals, electronic medical records, scheduling systems, and other software systems that can be used to streamline operations and make healthcare more effective.
We have also developed mobile applications that can be used to access patient records and other important information.
Wellness & Indian Spirituality
Yes, we do accept applications for Wellness & Indian Spirituality.
We accept applications from individuals who have a strong interest in traditional Indian spiritual practices, as well as in holistic approaches to health and wellness.
In order to apply for a program, please fill out the application form on our website and submit it along with a brief statement of intent detailing why you would like to learn more about wellness and Indian spirituality.
Education
we do! We specialize in building custom websites for educational institutions.
Our team of web developers and designers has years of experience in creating websites tailored to the needs of schools, colleges, and universities. We understand the importance of a functional website and can create one that will help you reach your goals.
With our custom websites, you can easily showcase your school or university, provide information about courses and programs, and even offer online courses.
Media and Publishing
We do websites for media and publishing companies. We specialize in creating custom digital experiences that are tailored to the specific needs of each media and publishing organization.
Our services include website design, website development, content management systems, ecommerce solutions, digital marketing, and search engine optimization (SEO).
We have extensive experience in developing effective, user-friendly websites that are optimized for search engines and deliver an engaging online experience for visitors.
Non-for-profit
We specialize in creating custom websites for Non-for-profit organizations. Our team of experienced web developers can help you create an effective, user-friendly website that will help you reach more people and raise more funds for your cause.
We understand the unique needs of Non-for-profit organizations and will work with you to create a website that reflects your mission and brand.
We also provide ongoing maintenance and support services to keep your website running smoothly.
Public Sectors
We specialize in creating digital solutions for businesses, public sectors, and start-ups. Our services include web development, application development, web design, user experience design, digital marketing, and software engineering.
We create user-friendly platforms that are tailored to meet your needs and ensure that your digital products look great and function smoothly
Our team is committed to delivering a high-quality product that meets your exact requirements and exceeds your expectations.
Retail and ecommerce
We specialize in creating custom websites and applications for retail and ecommerce businesses. Our team has years of experience developing user-friendly, visually appealing, and fully responsive websites and applications that provide an optimal user experience
We also offer a range of services such as SEO, digital marketing, and website maintenance to ensure that your website and applications are performing optimally and delivering the best customer experience.
Our commitment to quality and customer service is unmatched, and we strive to ensure that your project is delivered on time and within budget.
Travel and Transpot
We help our clients to create digital strategies for their businesses, including developing websites, creating and running marketing campaigns, and optimizing their overall digital presence.
We specialize in the travel and transportation industry, using our knowledge and expertise to help our clients succeed online. We can develop content, manage social media accounts, create paid search campaigns, build email campaigns, and more.
We're also experts in SEO and analytics, helping our clients understand and use data to drive their business decisions.
Our goal is to help our clients maximize their online reach and profits, so they can focus on what matters most to them.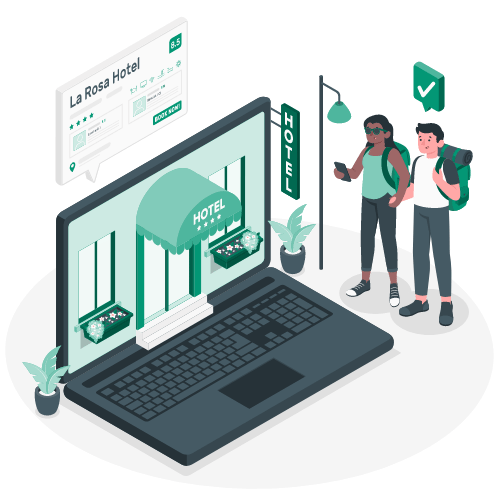 Edu-tech
We offer a wide range of services to help edu-tech and health-tech companies build and grow their digital business. Our range of services includes:
-Strategic planning and consultation -Business model design & optimization -Digital marketing strategy -Lead generation -User research & testing
-Product development & design -Data analytics & insights -Content creation & distribution -Social media management
-Search engine optimization -Online advertising -Partnerships & collaborations -Customer service & support